Day 44: Mainschleife 2
After our first day out on the road in Franconia, today it was time to head back. But before that, we took them time to enjoy beautiful town of Veitshöchheim: Small streets, frame houses, and its famous Rokokogarden (free of charge).
For breakfast, we found a nice cafe and shared some goodies there. Somehow, when out cycling on a multi-day trip, few things are as exciting as a good breakfast with some fresh coffee in the morning. Then, we headed back to Schweinfurt, first again alongside the Main and then via the Werntalradweg (yes, this bike route actually has its own website!). It was quite the route: Nice asphalt, far less populous than the Main route, and a bit more spicy with quite a few height meters. I actually became quite bored of cycling next to the river for the whole day yesterday, so the change today was very welcome. Since we rode kind of a triangle, today would be much shorter km-wise, but I would not necessarily say much less intense, due to the climbs.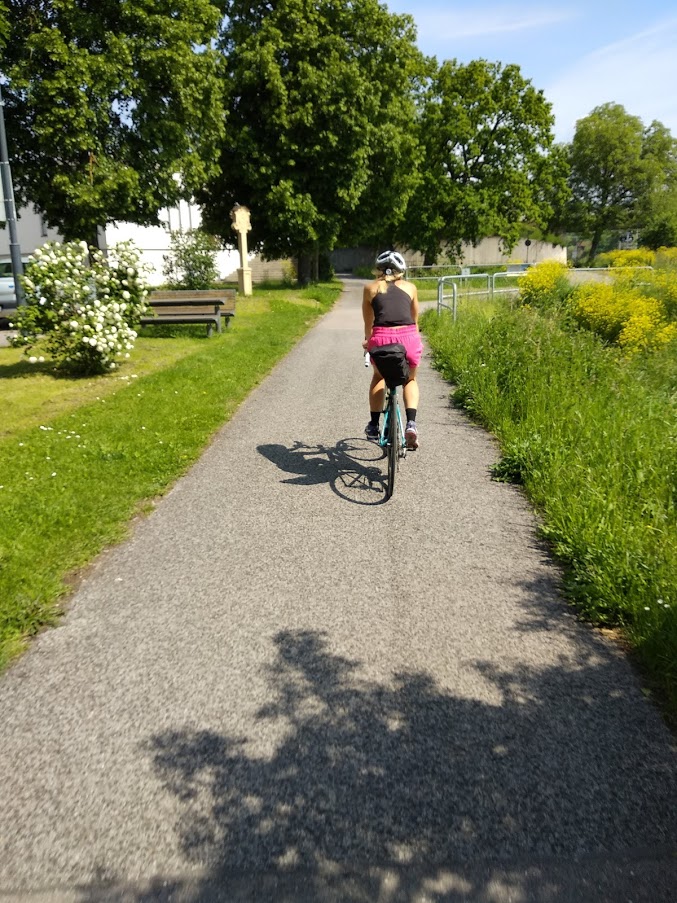 To cycle this route had been on the bucket list of my dad for some time. While he knew the last 40-or-so km, he did not know the start, so it was good to explore it all.
On the road, we stopped at a nice cafe for lunch. This was a recommendation by dad, a spot he often visits with a friend of his. The location was also somewhat particular: It lay at the end of a street with a short, but super steep climb. It being Friday, unfortunately, they had run out of all their lunch options: No more soup, pasta, or salad. Which was a bit of a bummer, because we could see the last of those dishes being served to a group of people on the terrace, who I suspect have never done any sports before. So we resorted to having some sandwiches made for us, and I topped it of with a delicious cake.
After another fifteen km, in the town of Werneck, we stopped at the manorial castle, which doubles as a psychiatiric clinc and hospital. We ate even more cake there to get us those last kilometers home (Nora was so glad as to occassionally share a piece of the Carot cake that the friendly chef recommended us).
All in all, it was a fantastic trip that I (and I think everyone else) enjoyed. A few take-aways:
I think my dad would really be served well with some of these new fitness bikes that are essentially made for road biking, but are something between a race bike and a trekking bike.

I should really get a new saddle for my mountain bike, that thing has never been comfortable. I also realized how bad the bike fits me – when riding freehanded I almost missed the handle bar once because it so much forward. I also saw that I have learnt a lot about bikes lately, so I could McGiver a repair.

It is really cool to have a family that is so cycling-enthusiastic that you can just do something like this.

It was good to explore my old home like that – I was amazed by the landscape and pretty impressed by the bikepaths (but then we chose the route for them, so I guess if you just go ride, you'll have a worse experience for sure). One thing Germany has to abandon is this idea of shared pedestrain/bike paths: It does not work. Going into Würzburg, we had one situation where a group of girls blocked the bike part of the path, we went around on the left, going on to the pedestrian section. However, there was a crazy E-Biker who kept going on the bike lane, meaning he passed us on our right. Well, we are not in Australia, baby! I never knew whether he crashed into the girls (I did not hear an impact sound), but it sure seemed like he wanted to teach everyone a lesson. Ebikers …

I already knew the food would be great, and so it was. The only disappointment was perhaps the coffee: I only had one great capuccino in those two days.
Servus,